The history of spray paint art in Mexico
The History of Spray Paint Art
The history of spray paint art begain officially around 1982 with Ruben Sadot Hernandez in the City of Mexico.
He would paint in the street with a turban on and stick his tongue out and improvise with the cans on paper, seated on the floor, that's the way the ritual began.
A Movement Begins
In 1984 Sadot shared his ideas with others including Ricardo Huet and Rafael Martinez (el plantillas) , Gerardo Amor, Hugo Montero, Augustin planetas, Cecilia Banos etc.
Time passed and by 1986, more had joined the movement.
AMPA
In 1988 the technique had matured and AMPA was born. Association Mexicana de Pintura en Aire. Aerosolgrafia was a part of this school which included other tools such as airbrush.
AMPA was inaugerated in an Exposition in an important art gallery in Mexico City, the 'Ghandi'.
They had the support of the master Jose Luis Cuevas, well known internationally and several art critics including Raquel Tibol etc.
Check Out Some of the first Space Paintings by Gerardo Amor!
Migrations
In 1989, Ruben Sadot died and some of those painters migrated to Puerto Vallarta and formed the Mexian school of aeropintura, the realization of AMPA, there.
This school has planned to organize it's members and founders some collective expositions where people can become acquainted with the new advances in expression in this technique which opens worlds to us.
More Spray Painters Learn
In Puerto Vallarta, others learned, including Ruben (Melody) Herrera, Veronica Muniz, y Alisa Amor.
These contributed much to the technique.
In the rest of the world, many were learning and practicing this art in the streets.
Changes
Recently the drug wars and the trend of tourists going to all inclusive resorts far from town have changed the landscape for street painters.
It's very difficult now and they are turning to other uses for their talents and expertise.
Gerardo and Alisa Amor have created Spray Paint Art Secrets to bring these techniques to you and to the world! We feel it's time that spray paint art techniques are shared with other artists.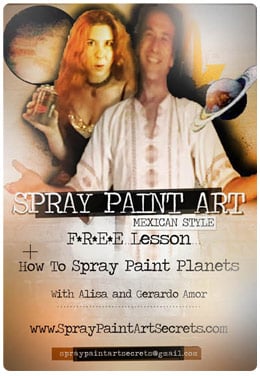 You are the next generation of spray paint artists. Paint with love!